THE GENTLEMEN'S ACADEMY
This one is for the boys.
Two friends from Dublin, Chewy Chewerson and James English, decided that men needed an online resource - a place that gave a fresh approach to the 'Modern Man'. A place to encourage creativity and camaraderie while developing skills both academic and practical - Good lord, sign them all up!
With these ideas The Gentlemen's Academy was born in 2011.
Their varied backgrounds have led to the success and increasingly growing audience. Chewy and James described their version of the modern man to me as - "culturally aware and hungry to learn. It's about an openness to try things, a few classics never go out of style too - chivalry in the modern era is about manners and respect for all those around you".
I love hearing and sharing men who give a damn about style and old fashioned manners.
Great work boys, Take it away!
Names.. James and Chewy
Hometown.. London and Dublin
Current location.. Dublin and just moved to London
Tell me a little about both of your backgrounds - what did you study, how did you meet and what led to the launch of The Gentlemen's Academy.
Chewy; I grew up in Dublin city, I never went to college but spent my early 20s running events and club nights which led to a role in a communications agency in the city, which I still work in. Working in the nightclub industry opened a lot of doors and I got to know a lot of friendly faces. One of which was James.
James; I am from London and studied Sport Science and Business at University, arrived in Ireland playing rugby about 5 years ago. Chewy and I met through friends of friends just after i moved to DUblin. We became good friends through a shared love of Dublin, parties and messing. Last year Chewy was my groomsman when I got married to my beautiful Irish wife. The Gentlemen's Academy began as an alternative to Ireland's pub culture with an emphasis on learning. We started working with local businesses and creatives to provide educational and entertaining evenings which would appeal to our friends. We found more and more people interested in the events we were running and it grew very quickly from there.
Describe your blog in 5 words. . A Resource for the modern man
What is involved when deciding on new subject matter/events and which men are you targeting?
Well its a simple process for us, we have built The Gentlemen's Academy around like minded individuals. So we find businesses or creatives with an overwhelming enthusiasm for what they do and we tailor our events around them.
Tell me a little bit about your concept of the 'Disco Brunch'?
Brunch, disco, dancing though not necessarily in that order. Our Disco Brunch brings together our members, members' girlfriends/wives/partners and friends in various eating establishments across Dublin to enjoy brunch and cocktails with an extra side of disco. Again, it's something that really appealed to us so we figured someone else might like them too- now they sell out weeks in advance.
What is your take/definition of 'The Modern Man'.
For us the modern man is culturally aware and hungry to learn. It's about an openness to try things. A few classics never go out of style too - chivalry in the modern era is about manners and respect for all those around you.
What does a typical day at work involve for you?
Chewy; I work in social media so spend a lot of time online keeping up with ever changing trends. The laptop is always on with far too many tabs open as I jump from project to project. I try and eat well and get out for a stroll at lunch to catch up with some friends too- that's super important.
James; My day job is in sport, so you will find me on the pitches, wearing plenty of layers and making the most of Dublin's erratic weather. My day is fairly active and often varied but I always reserve my evenings for hanging out with my wife and eating out with friends.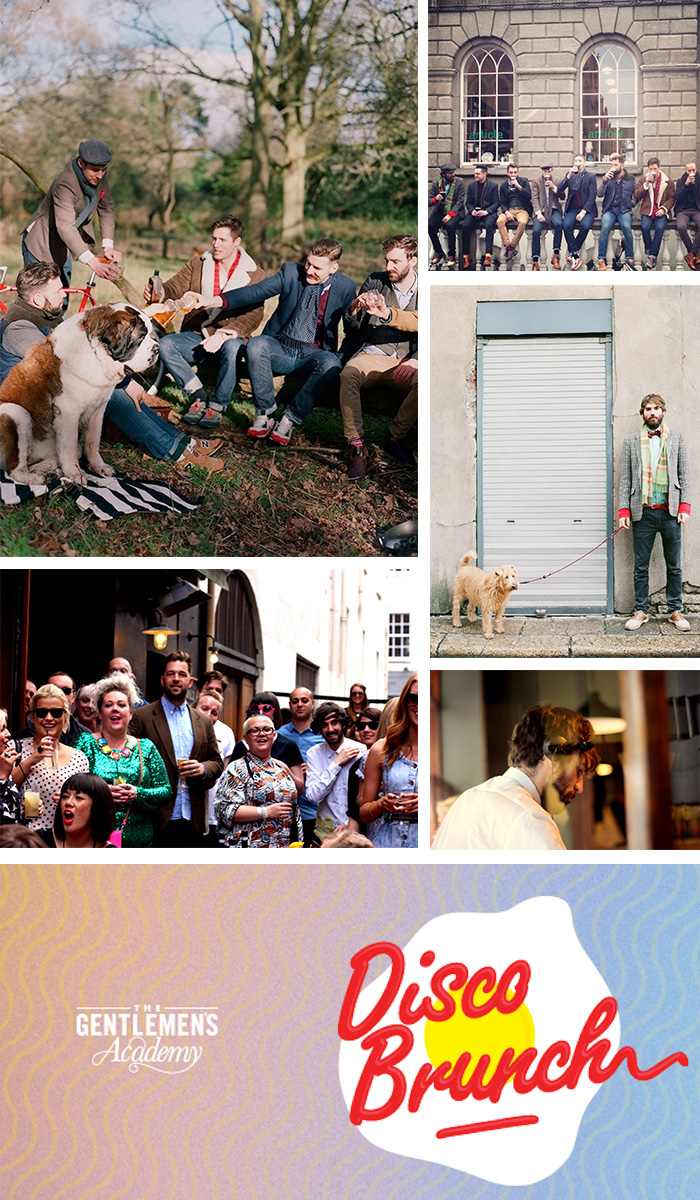 I can't start the day without..
James; Coffee.
Chewy; Weetabix
My signature look is..
James; smart denim, casual tweed and preppy layers.
Chewy; Hawaiian shirt and tweed - an unlikely combo I know.
I am currently obsessing over..
James; The Summer.
Chewy; The TV show Girls. I came to it late I know. It's so well written I actually want to hide under the pillow in parts.
Favourite Design Piece..
James; Eames Lounge Chair.
Chewy; I have an antique cabinet back in Dublin fondly known as the Chewseum which housed many of my favourite artifacts before I moved.
Where do you find inspiration for your work?
James; Sites like Selectism, SlamXHype, Nowness and Mr Porter.
Chewy; Talking to people who are passionate about what they do. I could gladly listen to an passionate expert in any field talk about their work.
My Biggest purchase to date was..
James; My House in Portobello, Dublin.
Chewy; I really am more of a thrift shop kind of guy but I did get an expensive coat in the sales at the start of the year. A big purchase for me is usually a rare find rather than an expensive peice
My Next big splurge is…
James; A trip to New York this summer.
Chewy; Im on the hunt for a new rug for my new place in London
On Saturday you will find me..
James; Pints in Grogans, the big match, dinner and drinks with friends at Coppinger Row.
Chewy; Watching Greg Wilson spin tunes in London. A legend of the DJ scene, Greg's mixes, re-edits and blog posts are a goldmine.
Im dying to go..
James; to the sun, to a spot in the hills of Ibiza with friends.
Chewy; Some place sunny in the summer! I am thinking a music festival in Croatia and a trip to Sicily in September for a friend's wedding.
Guinness or Irish Whiskey.. Both
Best kept secret about Dublin men..
James; I have found them to be very unassuming.
Chewy; Not sure if it's a secret but I like to think we are much more charming than a lot of others. You are always guaranteed a few laughs on a night in with the Irish. No one takes themsleves to seriously which is quite refreshing
What's on the drawing board?
Taking The Gentlemen's Academy international.
Images via The Gentlemans Academy, photography by katiestoops.com