EST MAGAZINE
I am thrilled to announce my contributing role for Est Magazine.
Est Magazine is a free quarterly digital design magazine curating the best in Australian and international design - the brain child of the fabulously talented Sian MacPherson (Editor in Chief) & Lynda Evans (Creative Director).
Each week I will be coveting the best of global design through travel destinations, product and general design greatness!
So make sure you vist Est - Subscribe, log in and begin reading!! The amazing 10th edition was launched earlier this week and even better Studio Arrc was featured in Blog Love!
Keep checking for weekly updates and see more of my piece on 'Armchairs, Functional Pieces Of Art' here!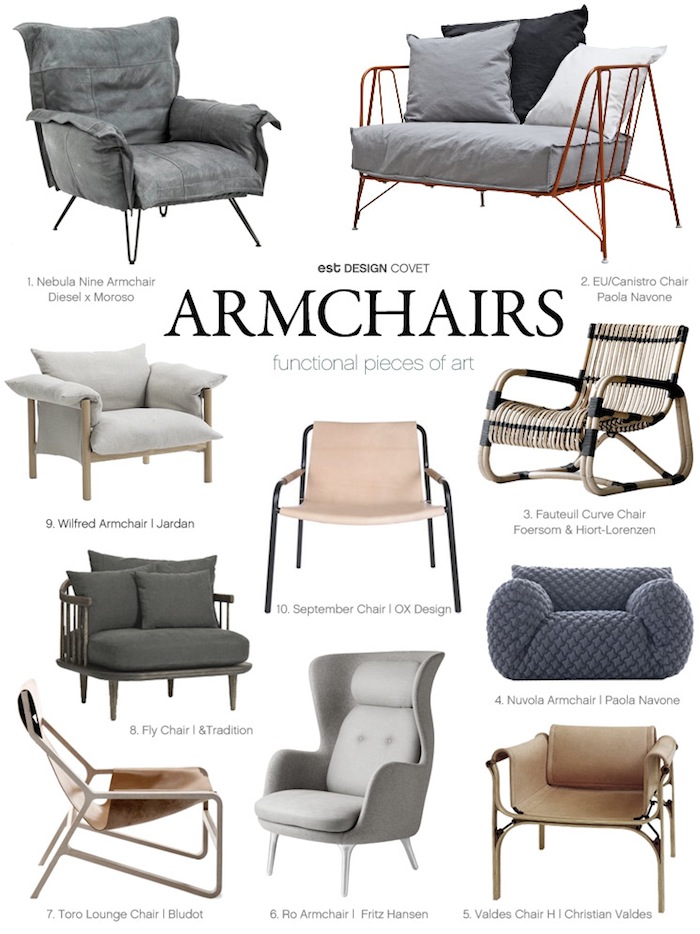 I love armchairs that make a bold statement through either their form, fabrication or individual personality. Be it a simple arm that curves seamlessly or a plump cushioned seat that just makes you want to flop – let's face it they are functional pieces of art, so take a seat and let them do the talking.
1. Nebula Nine Armchair | Diesel & Moroso
2. EU/Canistro Armchair | Paola Navone | The Conran Shop
3. Fauteuil Curve Chair | Foersom & Hiort-Lorenzen | Design Ikonik
4. Nuvola Armchair | Paola Navone | Gervasoni
5. Valdes Chiar H | Christian Valdes | Matter Matters
6. Ro Arm Chair | Jaime Hayon | Fritz Hansen
7. Toro Lounge Chair | Bludot
8. Fly Chair | &Tradition
9. Wilfred Arm Chair | Jardan
10. September Chair | OX Design
Images via Est Magazine; Cover photography by Hotze Eisma/Taverne Agency - Production by Rianne Landstra.