Rome inspires me because... of its abundance of history - its got old world charm with a bit of hollywood on top!
My insider tip is... Befriend the locals, they have the best advise of what their city has to offer and if you want to do the tourist thing - book in advance to avoid the queues!
You will need... A map, after a long lunch and a belly full of carbs and wine you will get lost.
On my feet... Miu Miu high tops. My tip - wear comfortable shoes, Rome is a city best seen by foot!
I indulged in... Too much pasta, don't go to Rome if you are gluten intolerant.
I brought back... Linen - lots of Society linen!

1. DE.DE MAISON Via Dei Pianellari, 27. A complete random find, this store is a designers dream. Everything from Gervassoni to kitchen products and utensils.
2. SOCIETY Piazza di Pasquino; societylimonta.com The ultimate style makers when it comes to household linen. I first discovered this amazing brand living in Sydney Australia, stocked by Ondene. The diverse colour range and textures were something I had never seen in bedding and knew I could not live without. There is something quite romantic sleeping and living with a fabric that is designed to crinkle and look lived in - EMBRACE THE CREASE!
3. GINGER Via Borgognon, 43/44; ginger.it. My eye was caught when I stumbled across this striking white interior in the centre of Rome. A relaxed yet vibrant bistro restaurant set a few steps from Piazza Di Spagna. Open early till late make sure you stop here for great breakfast and amazing selection of juices and smoothies.
4. DILLA Via Mario de' Fiori, 41. A great find - this restaurant is cosy and tucked behind the busy streets near Piazza Di Spagna, a great escape from the crowds.
5. GUSTO gusto.it. A Roman extravaganza including a Restaurant, pizzeria, wine bar and café. Terrific rustic interiors.
6. FLEUR Via Bocca di Leone, 46; fleurluxuryliving.it Interior designer Umberto Cinelli's shop is an open-plan space lit by blazing fires, filled with sofas and coffee tables adorned with sculptures, framed photos and books. Stop in the tea room to relax or go through to the restaurant to taste their delicious seafood menu - If you are a fan of 10 Corso Como in Milan, chances are you will feel right at home here.
7. LA BUCA DI RIPETTA Via Ripetta, 36. When you are told to try a restaurant by a local, you should never hesitate. You will love the food here - A traditional Roman feast!
8. HOTEL DE RUSSIE Via del Babuino, 9; hotelderussie.it If not only for a look, make sure you stop in at Hotel de Russie. I have always loved the sensation of walking into a glamorous five star hotel, there is something very 'Hollywood' about the experience. The gardens in summer are something to see and if you have time stop for a cocktail in the hotel bar. Keep an eye on the bar man – he is FABULOUS!
9. CROSSING CONDOTTI Via Mario de' Fiori 28; crossingcondotti.com This private 6-room boutique hotel is an experience, a true find in a side street set off from Via Condotti, the centre of Rome. With so few rooms the hotel is set on one floor of an original private recently restored Roman residence. You are not treated as a client in a large chain but as a guest in a private home.
10. DONNA CAMILLA SAVELLI Via Garibaldi 27; hoteldonnacamillasavelli.com Away from the hustle and bustle, located in the Trastevere district, here you can really sample authentic Roman hospitality. This chic spot in Italy's capital is an excellent place to visit local trattorias, bars and some out of the way exclusive boutiques.
11. ROSCIOLI Via dei Giubbonari, 2; salumeriaroscioli.com. An incredible bakery, deli and restaurant filled to the brim of delicious supplies. The restaurant it is always teaming with people trying to get a table, so avoid disappointment and book a table well in advance.
12. PIAZZA DI FIORI Piazza di' Fiori. A vibrant square - just steps from Roscioli - with a great food and flower market. Soak up the Italian culture and fresh produce.
13. TRASTEVERE. Located in Rome's 13th District. Rich in history, Trastevere is one of the last untouched original neighbourhoods in Rome. Citizens of Trastevere developed a culture all their own which allowed it to become the unique, eclectic area it is today.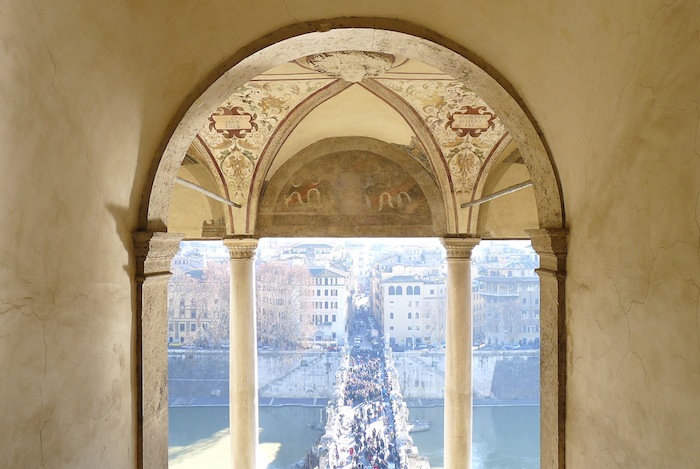 Images via Studio Arrc, Photography by Sophie Carr & Relating websites.