CORAL & TUSK
Feast your eyes on the magical work of Coral & Tusk.
Founded in 2007 by Stephanie Housley together with her husband Chris Lacinak, Coral & Tusk began as a modest little company in Stephanie and Chris's apartment. Last October everything changed and the Williamsburg loft was established as Coral and Tusk's headquarters, blossoming into a business which embodies a love of animals, travel and adventure.
Using techniques to retain the hand drawn allure of their original illustrations, every machine-embroidered pillow, doll, napkin and artwork has an innocence and fantasy that is projected through a storytelling sprit. From a very hungry whale who swallowed a shark, who swallowed a peg-leg captain, who swallowed a crab, who grabbed a fish - to a bear, who is embellished with a headdress of feathers given to him by all of his feathered friends. Total fantasy and beautifully symbolic.
A HUGE thank you to Stephanie for all of her efforts with this interview! See the inner workings of Coral & Tusk come to life here.
Name... Stephanie Housley
Hometown... Cincinnati, OH
Current Location... Brooklyn, NY
Tell me a little about your background - what did you study and what lead you to where you are now?
I come from a very hard working line of Appalachian people who made things. My Dad had his own carpentry business and all the women on my mothers side for as many generations as I was lucky enough to meet never sat still.
I was the first person in my entire family to go to college. I went to Rhode Island School of Design and majored in textiles. I turned in my last paper, drove a Uhaul truck down to NYC, and started working as a textile designer the very next day - that was nearly 15 years ago!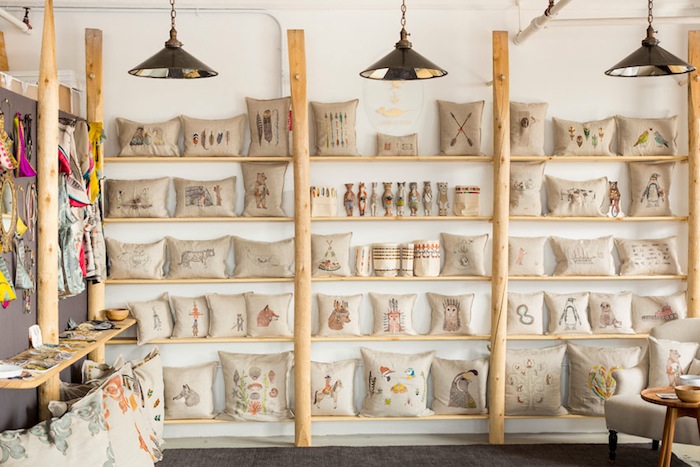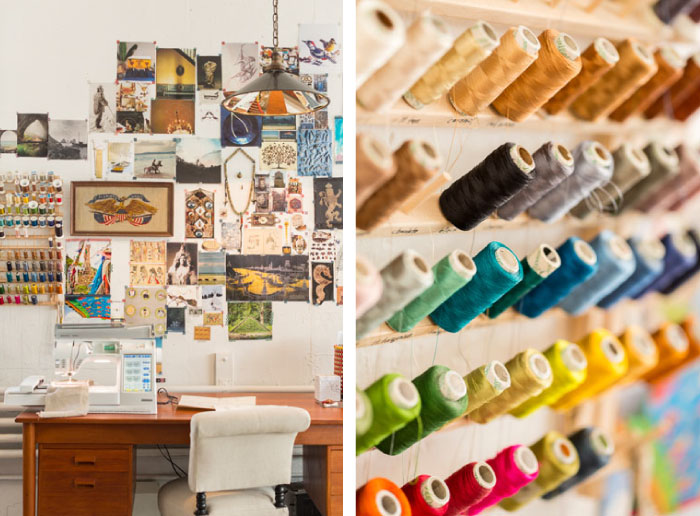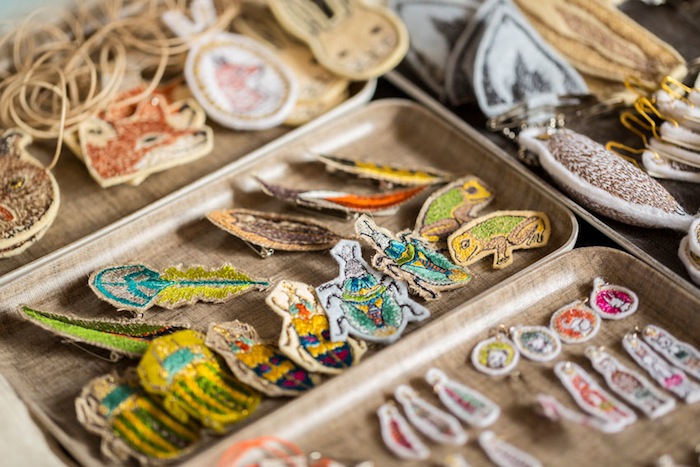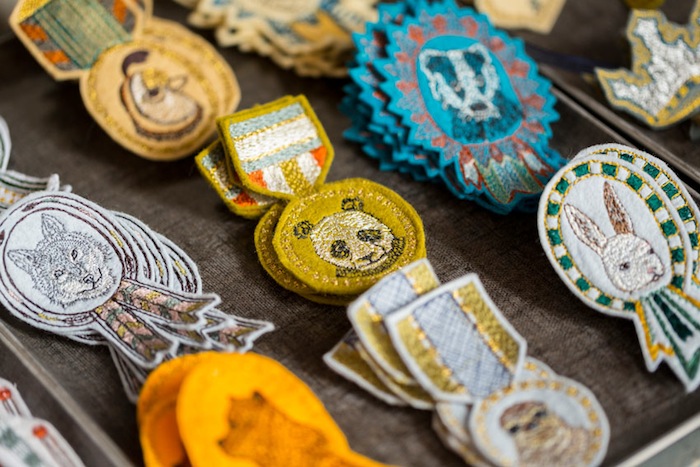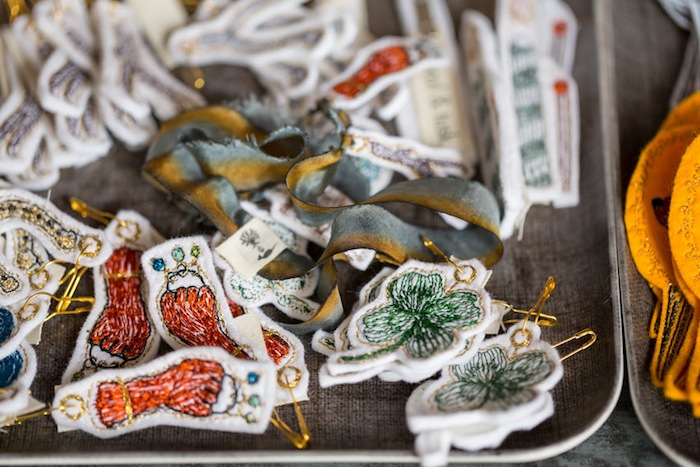 You started the business in 2007 with your husband, Chris - how did the business begin and can you give us some insight into the inner workings at Coral and Tusk's Brooklyn loft. What is your philosophy, how is the office structured and how many staff do you employ? 
The company started very quietly back then. I maintained a full time job as a textile designer until last October and grew Coral & Tusk in every free moment. We have been hugely blessed every step of the way and I have been lucky to find incredible people to help support, build and believe in what we are all about. I hired Alija Craycroft who is our Studio Director over two years ago full time. She is majorly credited with the growth and success of the brand. We slowly hired more people, mostly part time, and then Karen Lembke, our Studio Manager who has been with us for a year full time. The entire team would come to our apartment to work all day, while I was out at my day job, and then we'd switch places and I would come home and work on C&T until the wee hours of the morning. In October, everything changed and I was able to give my full focus. We moved into our amazing Williamsburg loft and things have continued to blossom in such incredible ways ever since! We've now hired Theresa Friess full time who was part time for over a year. We have 3 other part time employees, and are now looking to fill another full time position. As far as structure, each position has clearly defined responsibilities which works out very well. Everyone helps and supports one another, but each person oversees different things. I tend to brainstorm a lot out loud about a huge variety of topics - it is really important for me to discuss things and be very inclusive of the team. I strongly believe in giving credit to each of them for everything they do. I am extraordinarily lucky that each one of them is willing to contribute their talents and efforts to the growth of our company and I value them beyond words.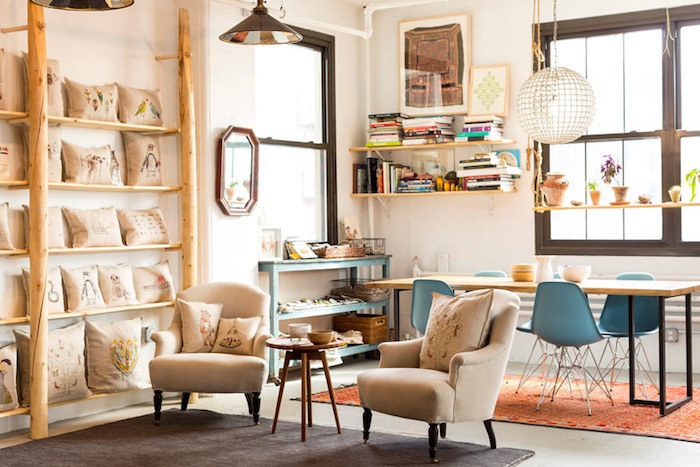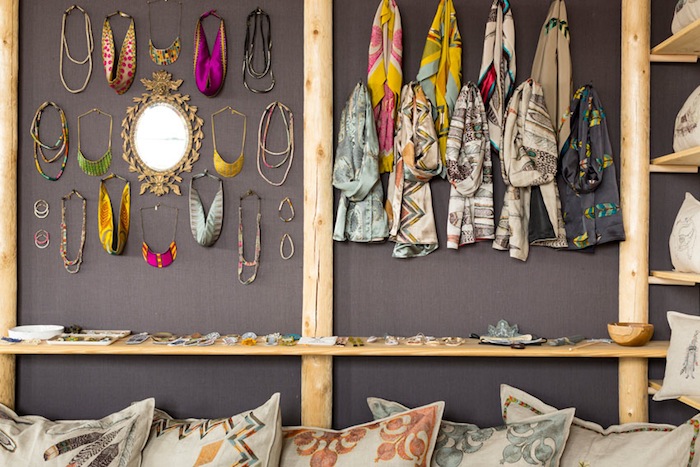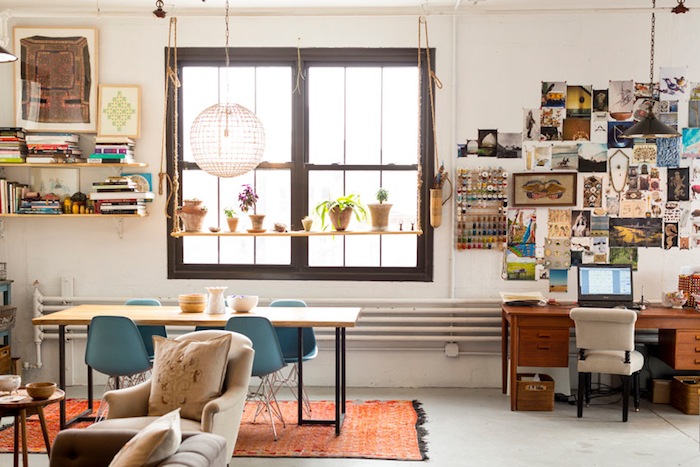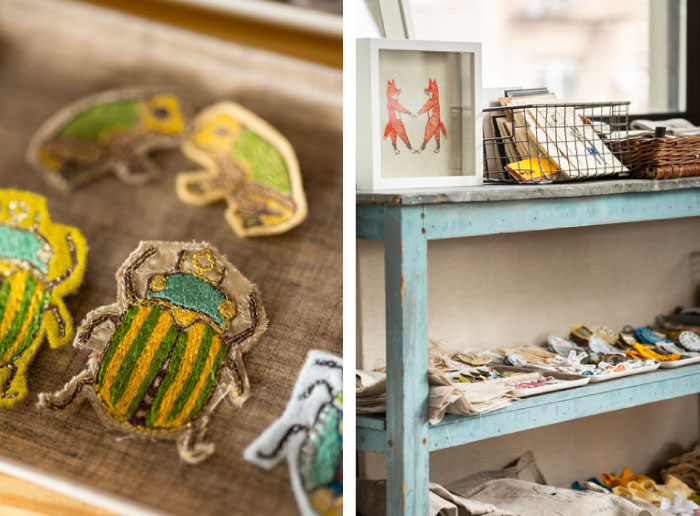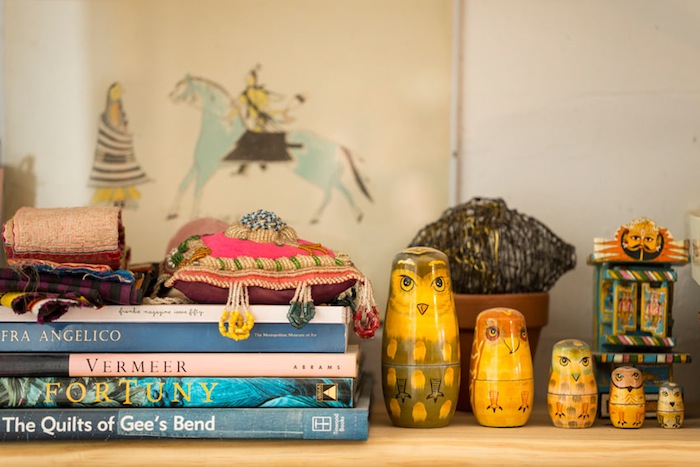 How do you draw inspiration and what general process is involved in the creation and construction of your designs? 
I am constantly gathering information and ideas through a variety of ways: being nature, looking at magazines and blogs, finding a theme that I then research and look through many books. We create two collections a year, so when we go into development mode, whatever is most exciting from the general gathering gets explored further and we begin thinking of ideas visually of what we are thinking to create. Then I do a pencil drawing to scale, then create the embroidery file stitch by stitch.
What is your favourite material to work with and why? 
I equate the experience of pencil and paper to thread and fabric,  both of those combinations are my favorite materials. They are my favorite because they are the most effective way for me to communicate visually.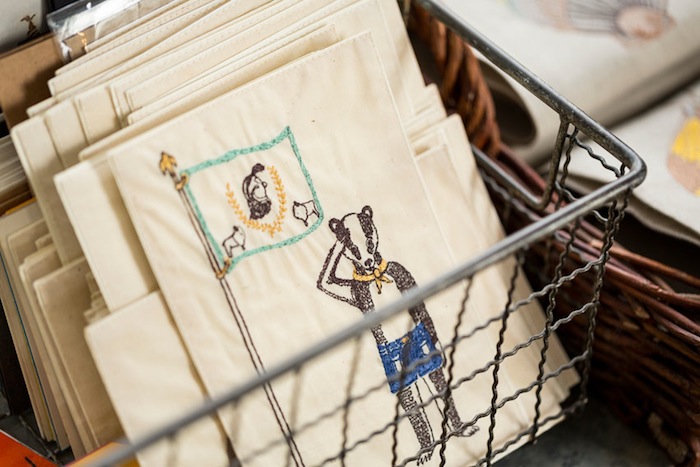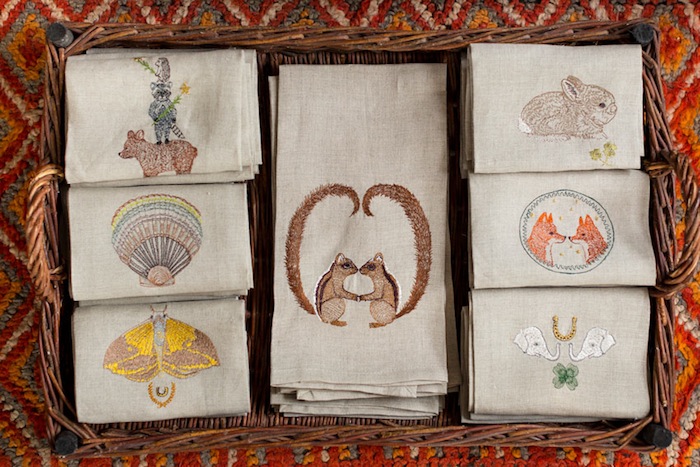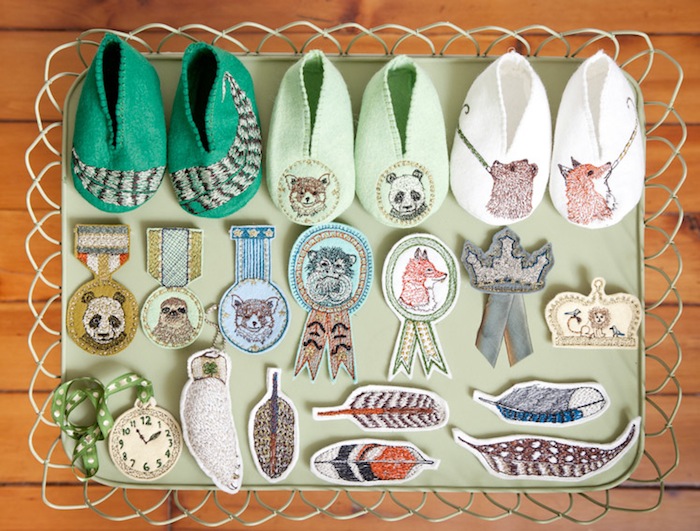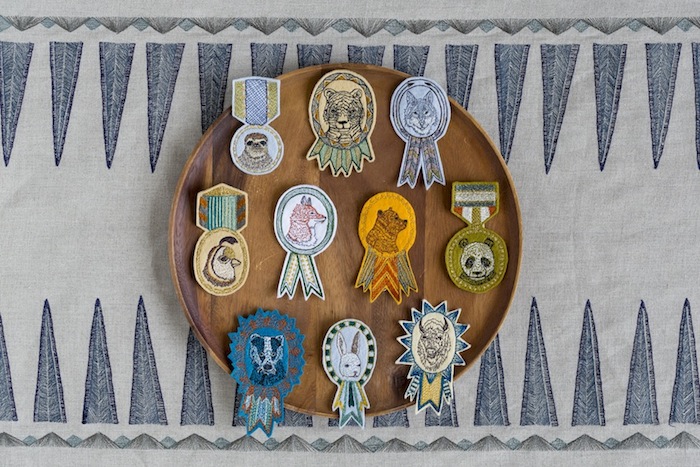 What does a typical day at work involve for you?
Take dog (Paco) to Prospect Park in the morning for an hour, then drive to our studio in Williamsburg. Work on a huge variety of projects throughout the day - including designing, emailing, business development etc. We all have lunch together and the team leaves at about 6, I generally stay until about 8. I meet my husband at home for dinner and then either spend downtime at home to ether or out out, or continue to work late into the night.
Explain Coral & Tusk in 5 words... embroidery, story-telling, keepsake, fun, inspired.
Your favourite coral and Tusk piece and your best seller... well, I love the things with pockets, the pocket dolls and the pocket pillows. When I was a kid I asked my mom to sew pockets in all of my garments. Our best seller is "Sparklers" in all of its incarnations.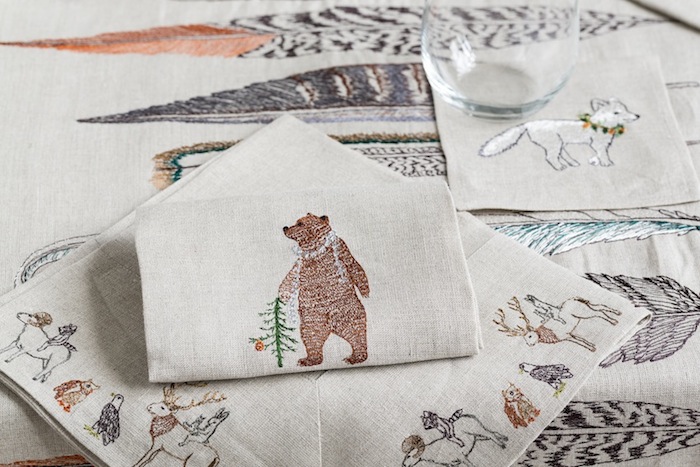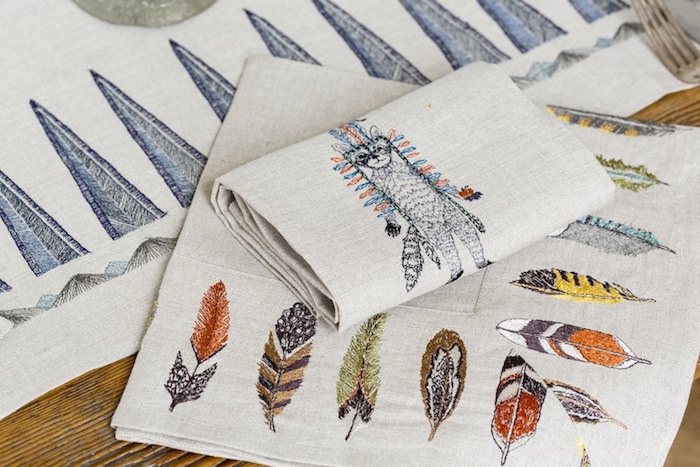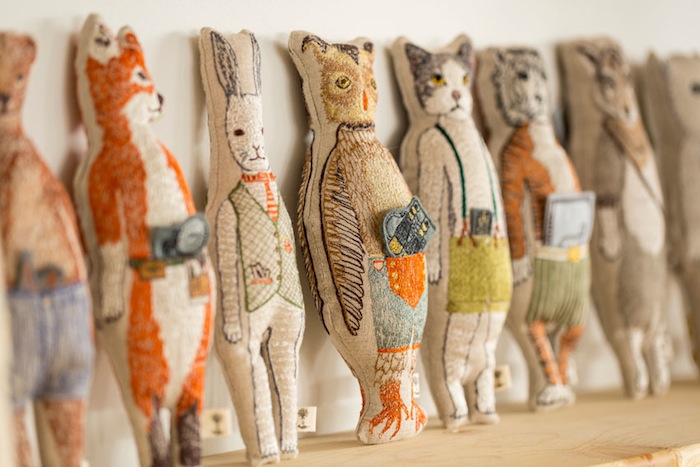 I can't start the day without... coffee...and Paco waking me up to snuggle for a moment before my feet hit the floor. 
I'm currently obsessing over... Ballet Russe costumes 
All time Favourite Designer… The Alexander McQueen show sincerely moved me 
Dream project or collaboration… Create a fabric line with John Derian for his line of furniture, or do some special pieces with Astier de Villate. I hate always wanted to make some ceramics. 
My biggest purchase to date was... Our co-op apartment that we live in still - that was 10 years ago. 
My next big splurge is... Personal item was the embroidery machine that allowed me to start this business! Guilt over the price drove me to sell things to pay it off. I would have never anticipated it would turn into this!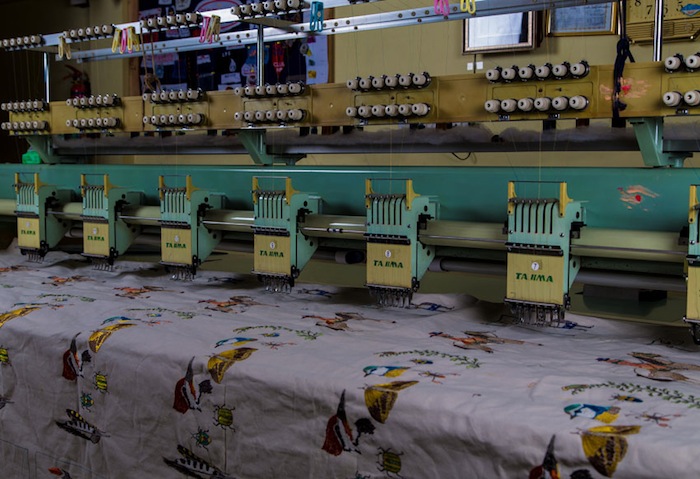 Im dying to go to... Patagonia
On Saturday you will find me... Prospect Park on a lengthy walk, farmers market in Grand Army Plaza...then who knows! Could be the loft for work, or a bike ride to Red Hook, or the beach at Robert Moses State Park---- but almost always with my husband and if possible my sweet dog, Paco! 
Best kept New York secret... Red Hook pier in Brooklyn next to Fairway - best view of Statue of Liberty and the harbour.
Whats on the drawing board… Spring Collection - botanicals are coming!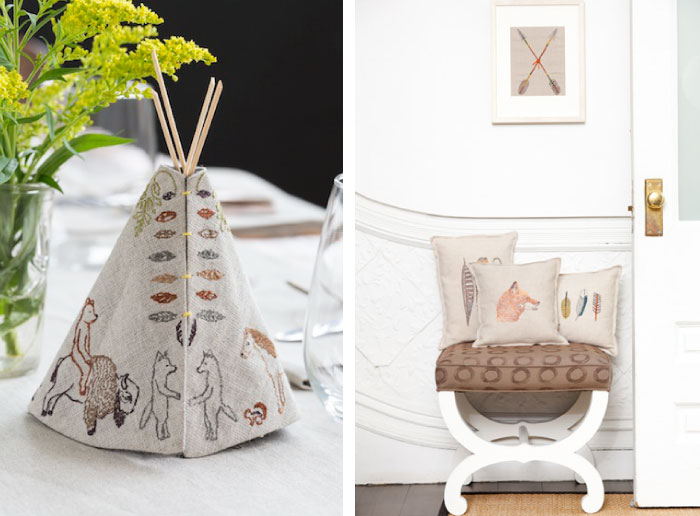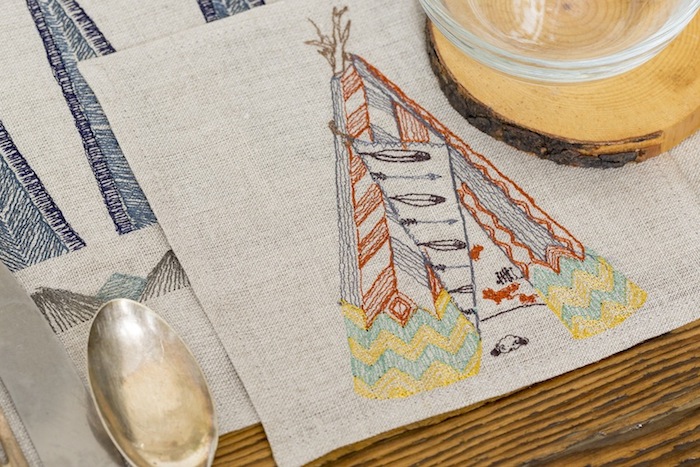 Images via Coral & Tusk, photography by Kate Lacey.