Jacqui Fink of Little Dandelion
When I first saw Jacqui Fink's incredible product I fell into a tactile rush! Jac is the designer of the Sydney soft furnishing label, Little Dandelion - making the most deliciously tactile knitted products including chunky throws, blankets and shrugs. What makes her product stand out is the sheer scale, using the largest set of knitting needles known to man!
This clever lady began a career in Law before launching Little Dandelion last year. Since the launch of this fabulous unique Australian label, it has taken off and is now stocked by Koskela, Hermon & Hermon and Spacecraft Studio, a huge achievement when you consider the length of time it takes to make one piece - "I spend way too many hours on a piece for Little Dandelion to make any commercial sense whatsoever but that is not what it is about for me  - they take about 30 hours to make from beginning to end".
These hours of work - which result in many trips to the chiropractor due to the weight of these beautiful pieces - has given Jacqui the chance to create a business that encompasses the Australian meaning of Hard Work! Total respect!
A huge thank you to Jac for allowing me to step inside her world for a day, I could not be happier to introduce my new friend!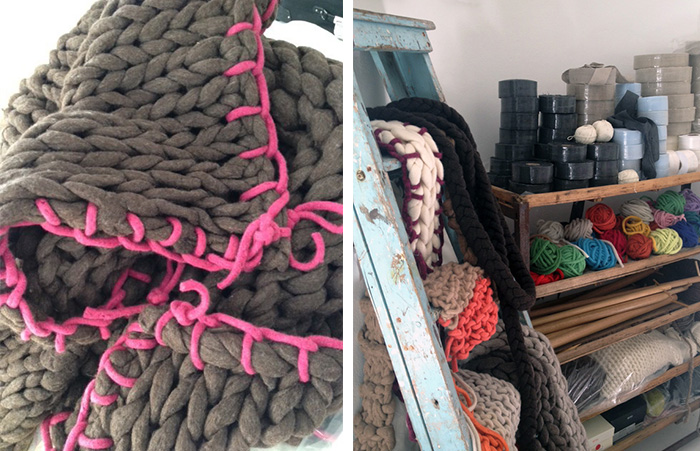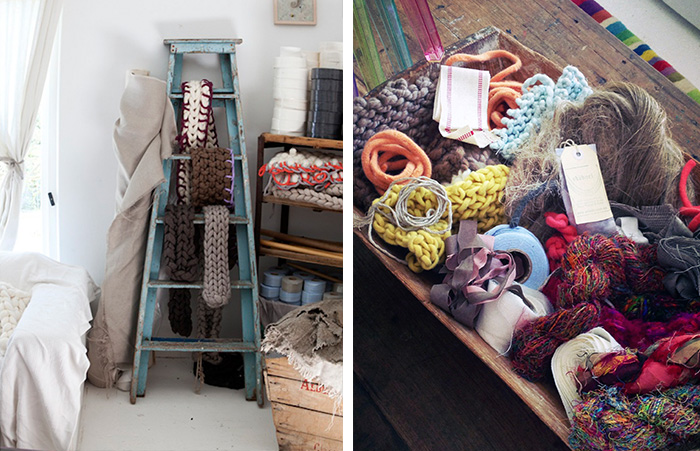 Name... Jacqueline Fink. Business name... Little Dandelion
Hometown... I was born in a country town called Murwillumbah and grew up near the border of New South Wales and Queensland. It's a beautiful coastal area surrounded by a lush sub-tropical mountain range. Stunning!
Current Location... I have lived in Sydney for the past 19 years. I followed my now Husband here after completing Uni on the Gold Coast.
Tell me a little about your background - what did you study and what lead to the creation of Little Dandelion?
I had a lovely unproblematic childhood except for that fact that I was born into a very sporty family and I am the antithesis of a sporting type. To this day, I have a visceral reaction to the sounds of a whistle as it reminds me of Sundays spent beside a football oval and homework not yet done. Ugh! As a child, I spent hours engaged in creative pursuits but never considered my self creative. I studied law at Bond University on the Gold Coast and it was there that I met my Husband. I followed him to Sydney on completing my degree. I practised law for a few years before leaving it to work in my Husband's fashion retail businesses. Children then came along and I threw myself into the role of a stay at home Mum. I started Little Dandelion last year but it took me two years prior to that to get the business to launch stage. I had been searching for something for myself for a long time. I wanted to prove to myself that I could create something out of nothing and to show my children that they can always create a job for themselves with hard work and a positive outlook.
You began knitting as a child, who taught you to knit and what techniques do you use to achieve such an deliciously tactile product? 
My Mum taught me how to knit. Mum would always cast on and off for me and I'd do the bits in between. I loved the methodical and rhythmical nature of knitting even then and, while I couldn't wrap my head around anything complicated, it was always important for me to get every stitch the same. It's easy to become a bit obsessive compulsive about it actually. With regards to what I do now, any experienced knitter will tell you that I don't do anything technically complicated knitting wise. The difficulty comes with the scale of the work I produce and the sheer physicalness of my process. I knit with combed woollen tops as they provide a beautiful luscious texture. But they are by no means easy to manage and you need to be very careful with the tension you use during knitting as the tops are prone to breakage.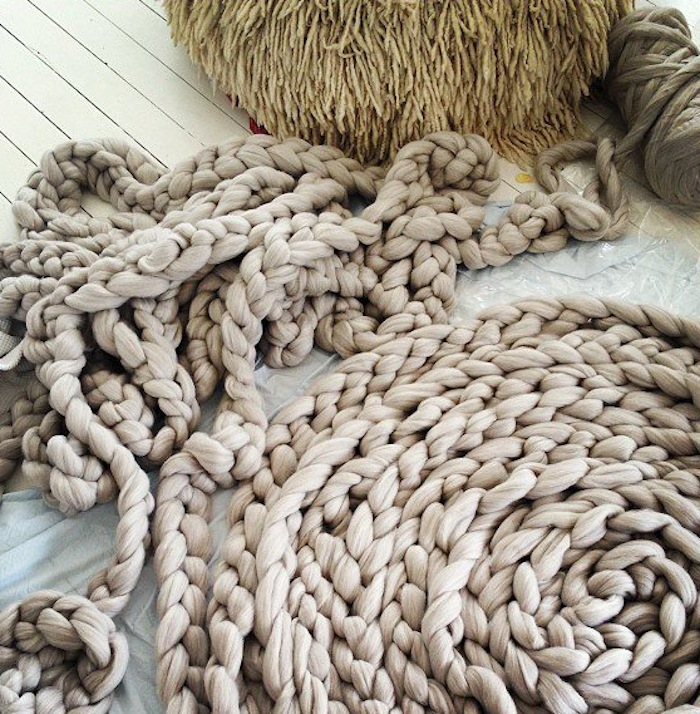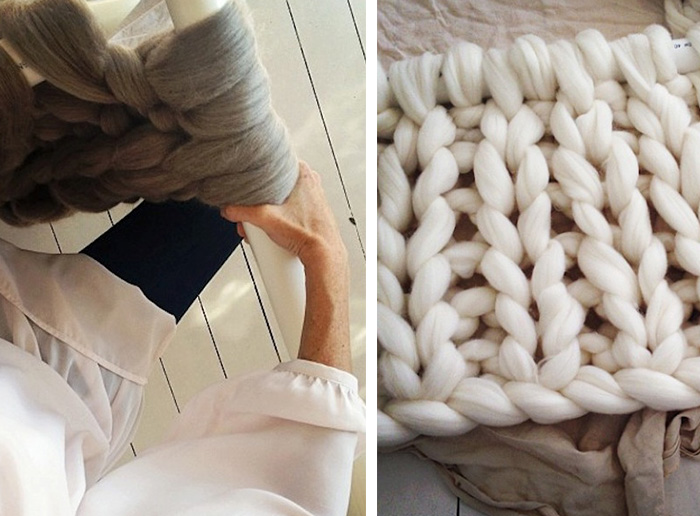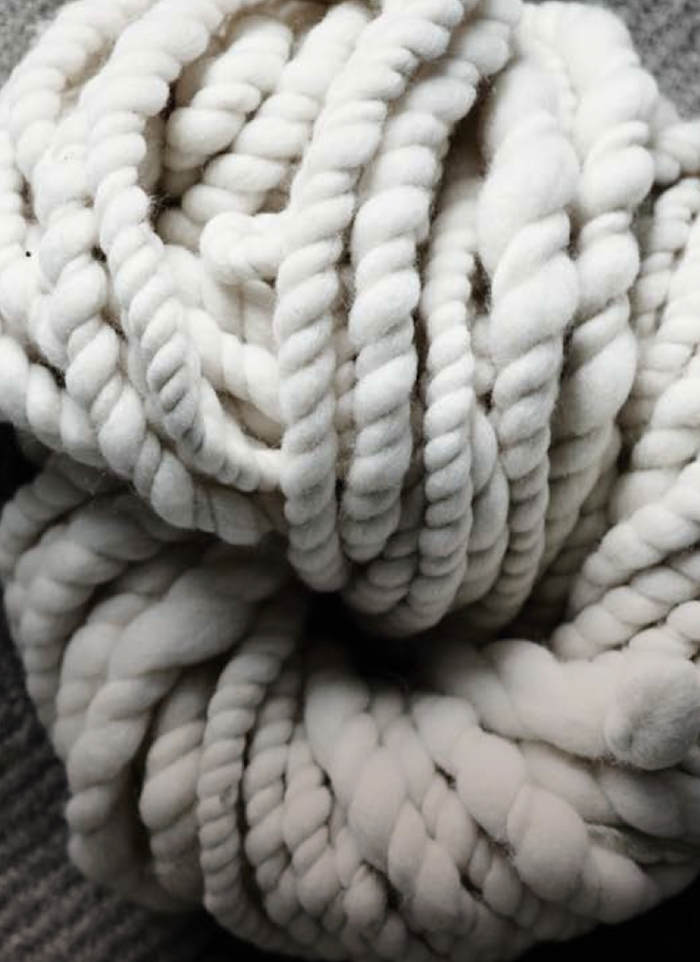 What process is involved from concept through to fruition? How many hours do you spend on one piece?
I spend way too many hours on a piece for Little Dandelion to make any commercial sense whatsoever but that is not what it is about for me. The throws that are approximately 130cm x 170cm, are my most popular offering and they take about 30 hours to make from beginning to end. However, that does not include drying time which usually takes 3 days in sunny weather. I start by knitting the throw with the raw top, then felt the knitted piece before trimming it with a felted lambswool yarn.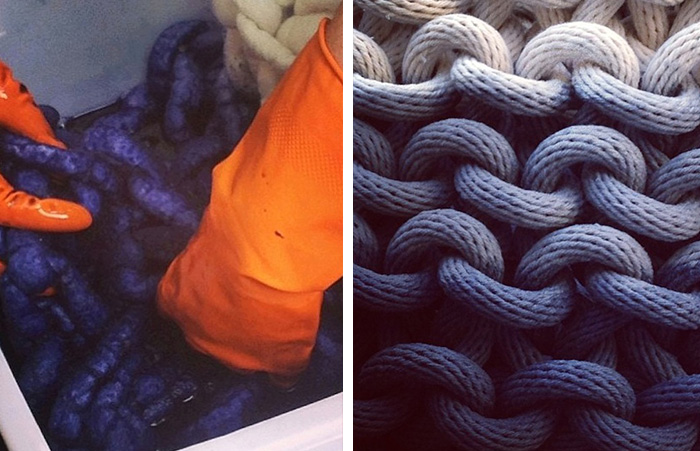 Little Dandelion uses Australian and New Zealand premium Merino and Corriedale wool. Tell me about the importance of using Australian materials where possible.
I actually bundle Australian and New Zealand wool together because I think they have the same brand values in terms of exceptional quality. New Zealand is also our cousin so I am as comfortable using New Zealand wool as I am Australian wool. Together, these two countries make the best woollen fibre in the world so it's important that we support our farmers and suppliers in any way we can. Sourcing local product also helps keep Little Dandelion as low impact as possible from an environment point of view.
What do you love most about working with wool and linen?
It's the texture that gets me every time. I'm a big fan of sensory feedback and wool and linen provide that in spades. Linen is supple and luxurious and wool is luscious, warm and soft. Combine these beautiful sensory properties with oversized stitches and a massive scale and I'm a happy girl.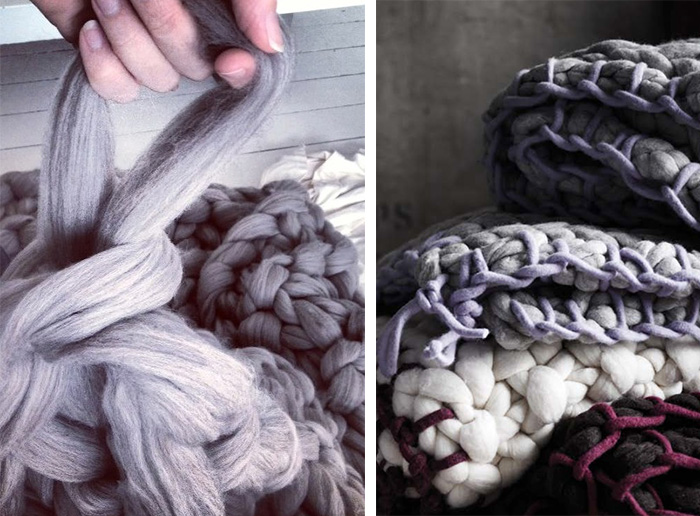 What does a typical day at work involve for you?
I am happiest when I have a full day of knitting ahead of me but that rarely happens. Emails always beckon, so too does the dreaded paperwork. I try my best to compartmentalise these aspects of my work otherwise I get frustrated with myself. Many aspects of my creative process require patience and great attention to detail so if I'm constantly having to walk away everything just seems to take so much longer.
Explain Little Dandelion in 5 words... Textural, comforting, unique, creative and perhaps a little "insane"???
What inspires you?
What doesn't inspire me frankly? I look to nature for colour combinations. I channel the creativity of others I admire for motivation. Conversations always give me new ideas, even if the conversations are unrelated to the idea. Can't explain that one. Textures and smells also carry me to new horizons.
I can't start the day without... Coffee. Trite but oh so true.
I'm currently obsessing over... I'm trying to develop a Little Dandelion yarn so that people can knit their own blankets and throws. I will sell the yarn in kit form with huge needles and a basic pattern. The yarn will be on the same scale as what I currently create with woollen tops but without needing all the various and laborious processes I employ. But the path to mega yarn mecca has not been going smoothly and sometimes I despair as to whether I'll be able to pull this off. I have such high expectations for my yarn but I guess I need to be guided by the Universe and its timeline. It may have other things in store for me.
Favourite Design Piece... I actually don't have one. Instead, I have a penchant for Depression Era pieces of furniture because I love the simplicity and ingenuity they represent and the history to which they have borne witness. The paint colours at that time were also gorgeous: the prettiest of blues and greens you can imagine. Apart from that, I prefer art over furniture.
Dream project... I am working on an exhibition with a beautiful friend named Lara Hutton. Lara is one of Australia's leading interior stylists and, on the side, she makes the most incredible and delicate handmade ceramics. We are collaborating on a few new pieces (secret squirrel stuff to be revealed at the exhibition) and we will also showcase our own works but in a highly original way. I am beyond excited about this journey with Lara. We are both incredibly time poor (Lara has three children as well) but we meet up when we can and plot away. It will be AMAZING!
My biggest purchase to date was... Our house I guess. We live in a beautiful 1940s P&O Style house. It is showing its age and really needs a renovation but we have grown to love her old bones and beautiful curves. When we moved in, we painted the floor boards white so the house has a light and summery feel even on the greyest of wintery days.
My next big splurge is... A holiday. I would love to jump on a plane and go anywhere really. I'm so poorly travelled it's embarrassing. Right now, because it so cold and I don't do cold very well, I'd love to go North and seek out some lovely tropical bungalow.
Im dying to go to... Tropical North Queensland. I consider it my spiritual home. I feel totally at peace up there. I love the heat and the humidity, but, mostly it is the pull of the azure waters and the vivid colours of the landscape that leaves me longing to return. I feel free up there in a away that no other place has ever made me feel.
On Saturday you will find me... At the chiropractor bright and early. My work is physically gruelling and heavy and the chiro helps keep my body in check. I often end the week feeling like I'm 40 going on 60. Not good! The rest of the day is usually about cleaning up the mess I've created during the week. I actually do most of my knitting in our living room as it is a beautiful light filled space and I do have a tendency to spread out. We often have friends over for dinner on the weekend so the rest of the day is spent prepping for that.
Best kept Sydney secret... We have a couple of favourite harbourside beaches we can access along the Spit Bridge to Manly walk. The water is incredible and the view amazing.
Whats on the drawing board... I'm always dreaming up new products but it is a challenge finding the time to work up the prototypes. I'd also like to do more collaborations with makers of handmade I admire. My collaboration with Karen Davis and Pepa Martin of Shibori Textiles produced some beautiful work and it also bought with it some gorgeous new friends. I'm always up for some gorgeous new friends.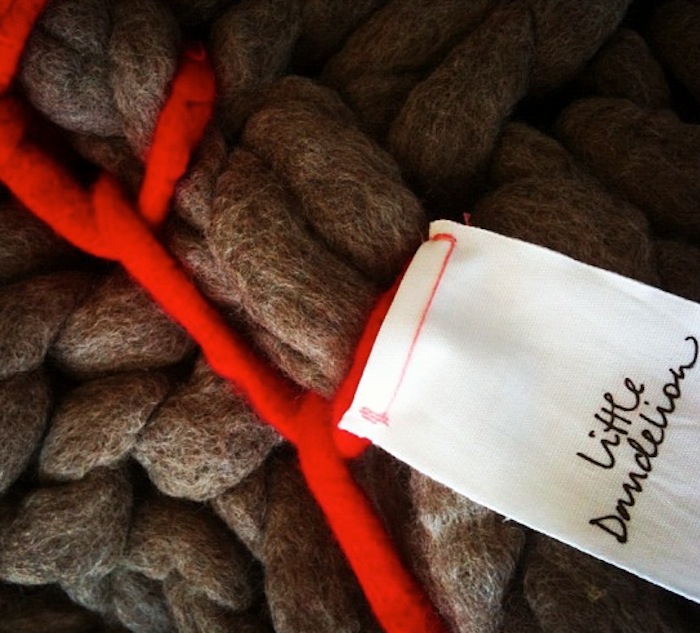 Images via Little Dandelion.