leila jeffreys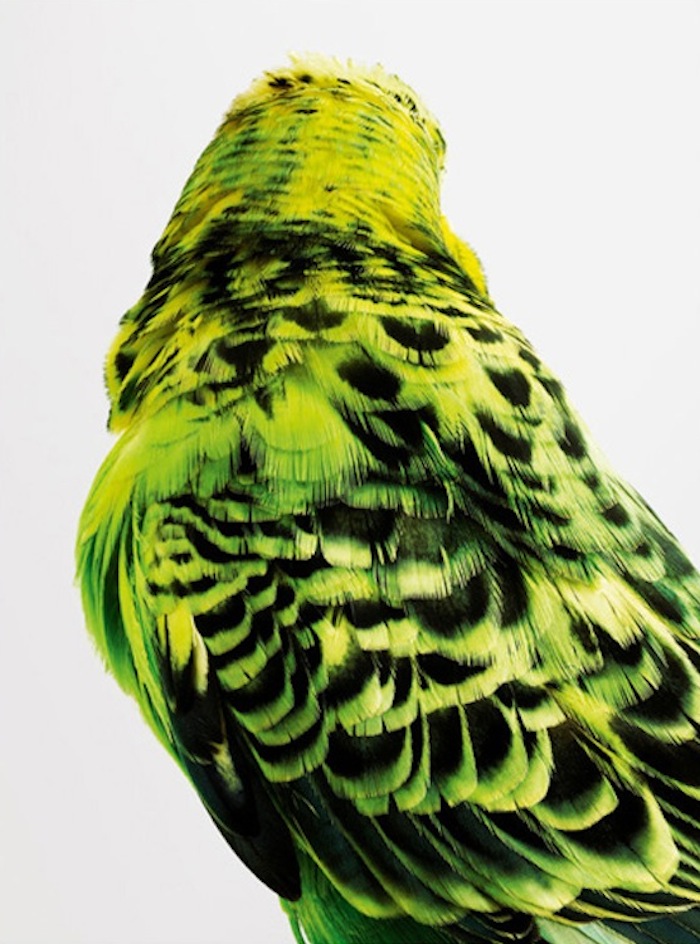 'Salvador', Portrait of a Budgerigar by Leila Jeffreys.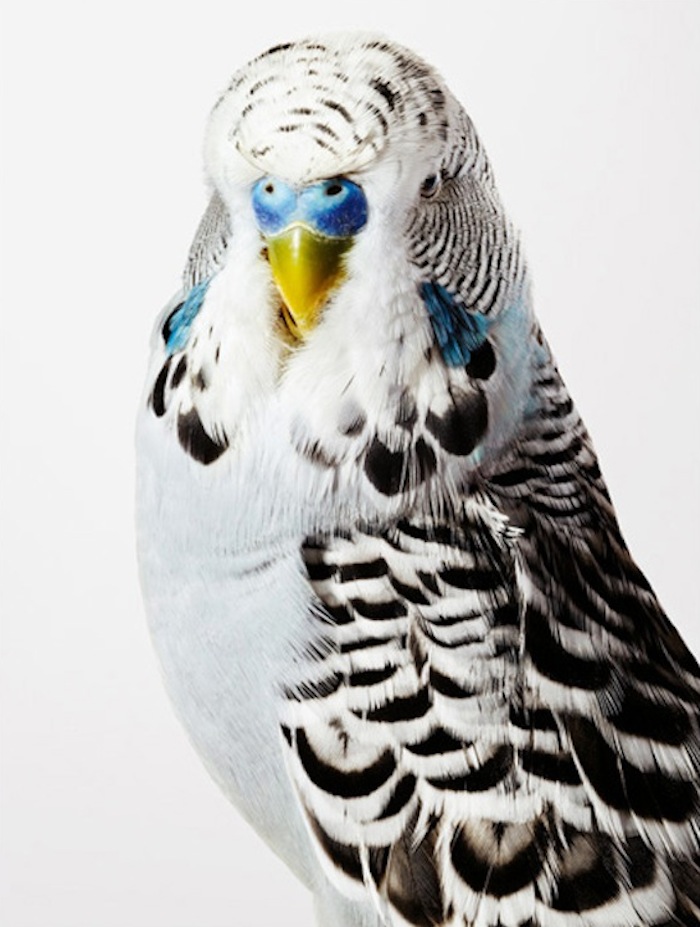 'Jimmy', Portrait of a Budgerigar by Leila Jeffreys.
Leila Jeffreys photography caught my eye three years ago in the form of a portrait of a handsome, regal looking budgerigar named 'Jimmy'.  'Jim' - as he is now referred to as in my house hold - has remained one of my favourite pieces and continues to raise eyebrows. Who would have thought a portrait of a budgie would be so endearing!
There is something about how Leila captures the personalities of her subject matter. It is as though they are old friends and you instantly fall for them. This connection can only be gained from someone who is on the same emotional level as their subject - and Leila certainly is.
Her love for animals and particularly birds began at a young age. Her childhood was as close to an episode of National Geographic as one can get, full of extraordinary experiences a child could only dream of. Now with her focus and dedication on wildlife conservation she is highlighting what beauty we have right outside our very window -  "I love all animals but the reason why I focus on birds is because they are one of the few wild animals that have been able to adapt to city living - Because of this I have formed a strong connection with them". 
Leila's striking portrait photography of birds is now represented by the Cat Street Gallery in Hong Kong, The Olsen Irwin Gallery in Sydney and her works are sold in the stores of interior giant Jonathan Adler across the US.
A HUGE thank you to Leila and all her help with this interview - She is truly an inspiration and I could not be happier to introduce her!!!
Name.. Leila Jeffreys
Hometown.. Perth, Western Australia, Australia
Current location.. Sydney, NSW, Australia
Tell me a little about your background - what did you study and what was your first break through in the art world. 
I studied photography at high school and then went on to study photography at uni as part of a Bachelor of Arts degree. I also completed a Certificate III in Photography at Ultimo TAFE.
My first breakthrough was by chance. I came up with a personal project to photograph portraits of Budgerigars because I love them and have many childhood memories of being around them. It was just something interesting to do, I was craving a personal, creative project and thought that through the process I might end up with an image that I would be proud to hang at home. As the project developed it started to turn into something much bigger, I could see a whole series unfold because the birds were just so wonderful to work with. I sent an email to a friend in Melbourne who works in the arts to see if she could give me any recommendations on funding to complete the project (photography is very expensive and it had already been two years work). She gave me some suggestions but also forwarded my work to a gallery who asked to meet with me. From there some artworks were included in a  group show and it sort of took off after that.
Your childhood was a wildlife adventure, between Papua New Guinea and a small village - on a house boat - in India surrounded by Monkeys, Mongoose and Buffaloes. Can you tell us a little bit about these experiences and what you remember most. 
I have very fond childhood memories of my time living in India. Nasrapur is where I have my fondest memories. It's a small village 141 kilometres south east of Bombay (Mumbai) India. Living in Nasrapur was my jungle book experience as we were surrounded by wildlife and forest and as a 9 year old every day was an adventure for me.
My brother and I were lucky enough to have our own school teacher. She was a retired school teacher from Perth that had an adventurous spirit and my Dad convinced her to travel to India with us. Her name is Barbara Lister and she was called Mrs Lister during school hours and after school hours we called her Aunty B.  She is a wonderful lady and when I was a child she picked up my love of animals and nature and included it as part of our schooling. We'd go down to the river to watch the King Fishers; we learnt to make candles using bees wax and she taught us how irrigation farming systems worked by making us plant a garden and irrigate it every day. I was a very upset when water buffalos came along and devoured all our hard work. I got to see live cobras doing their mating dance in the long grasses, my brother and I rescued a bat and a snake, we had monkeys on our balcony every day. I remember a chameloen that I was particularly fond of and a beautiful big tree that had a long branch that my Dad used to pull down for me to hold onto, he'd let go and I would go flying up and down into the air like being attached to a giant rubber band.
I also love the region of Kashmir which is in the north west of India between Pakistan and China. It was amazing for different reasons:  we lived on a house-boat and we were surrounded by snow capped mountains. It was so beautiful that it sometimes felt like the scenery wasn't real. It was the first time I had seen snow and I remember having so much fun with my brother jumping from one house boat to another.
I was born in PNG (Papua New Guinea) and lived there for a few years. Because I was so young my memories are hazy. However I do remember Albert our Possum. He was a orphan and being nocturnal used to make a lot of noise at night. I also remember the amazing shells you would find washed up on the beach.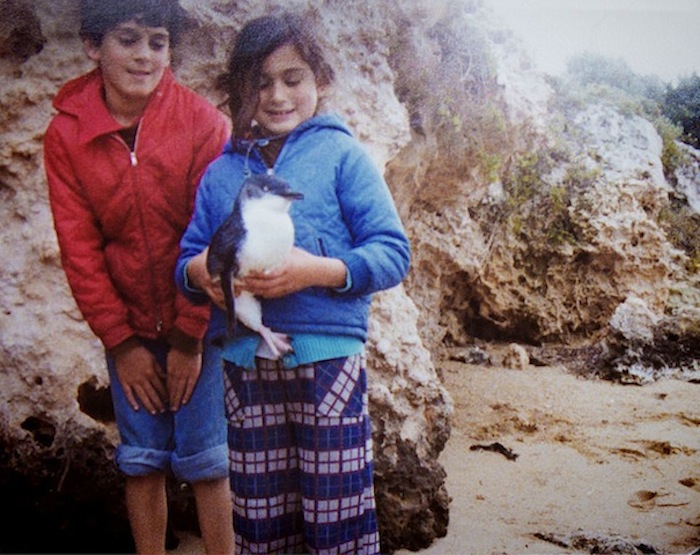 Photograph taken on Penguin Island of Leila and her brother Bruce with a very content Penguin.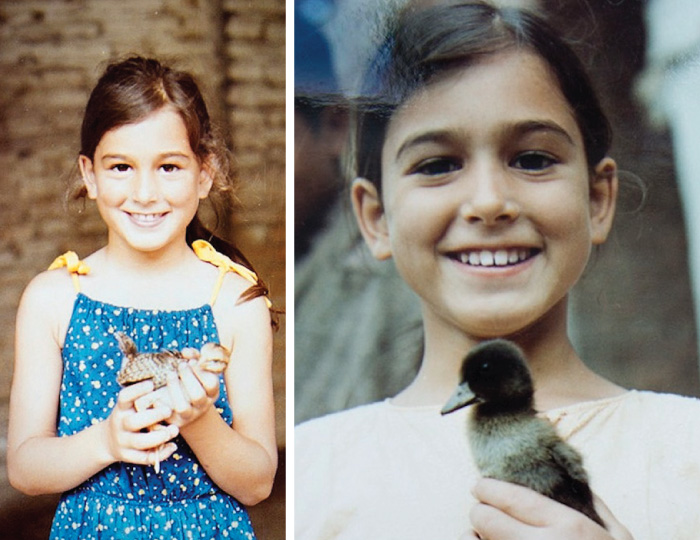 Photographs taken of little Leila in Indonesia and in Kashmir - always with bird in hand. 
Your most recent body of work 'Biloela - Wild Cockatoos' is a series of photographs capturing the Australian native Cockatoo. How long did this series take and why did you select the Cockatoo/what does it represent?
I really wanted to work with wild birds. My heart is with conservation and while I love budgies they were aviary birds so I wanted a new project that would show people how amazing native wildlife is in Australia. I am very fond of parrots (Budgies and Cockatoos all fall under the parrot family) and Cockies are the most human-like of all birds. They have so much expression, intelligence and character so I was determined to work with them. It took two years to photograph. I wanted to photograph every major Cockatoo species in Australia and accessing wild birds is very difficult, plus some are endangered which made it even harder. I started off with WIRES (a wildlife rescue group) so that I could photograph birds that had come into their care. I then worked with wildlife parks, zoos and personal breeders who were all involved in conservation.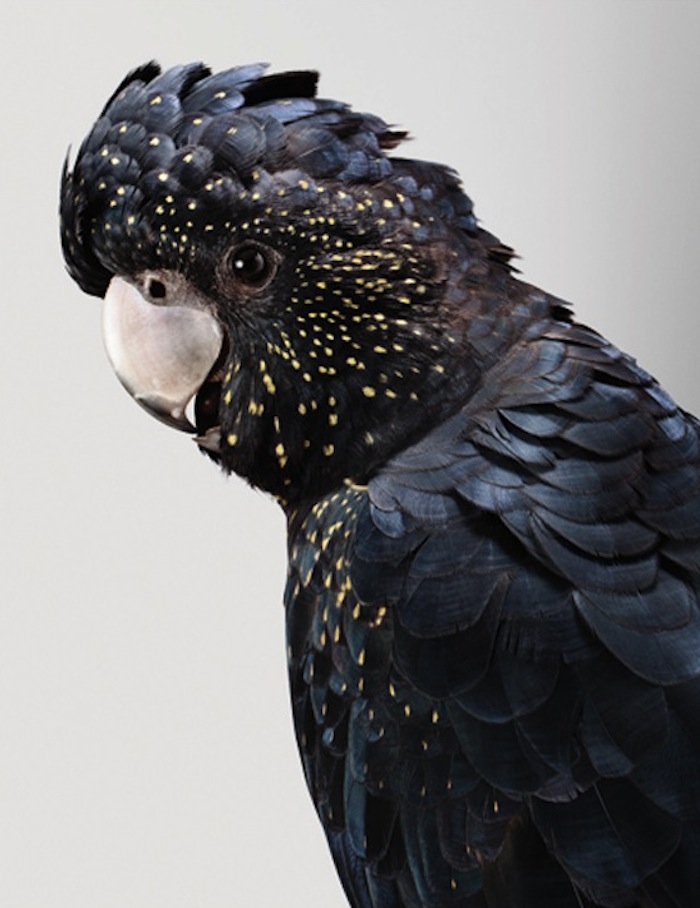 'Nora', Red-Tailed Black Cockatoo by Leila Jeffreys.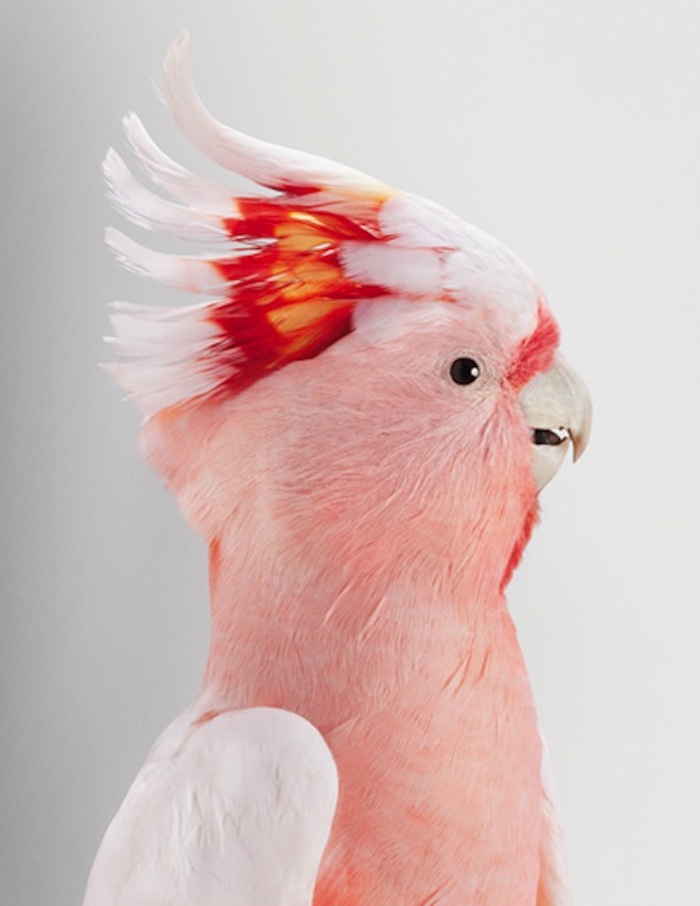 'Neville', Major Mitchell's Cockatoo by Leila Jeffreys.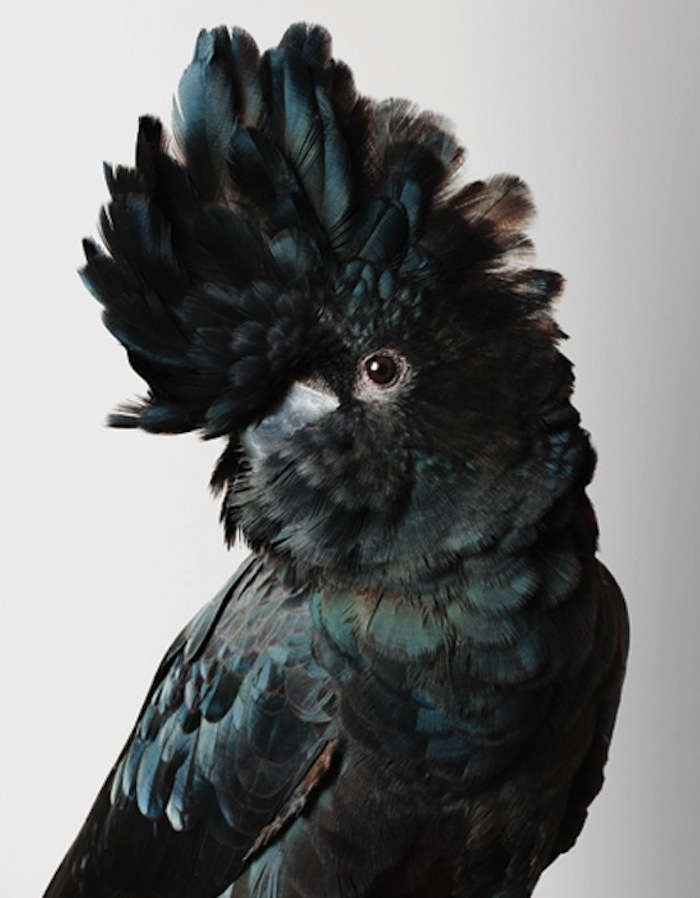 'Pete', Red-Tailed Black Cockatoo by Leila Jeffreys.
What process is usually involved when deciding on a new subject matter, which brings me to my next question - Why Birds?
I have a well worn Pizzy & Knight bird book that I refer to when observing the birds in my area. Through my observations I form an emotional connection and that drives me to learn more about my local birds. I see them as little people that live in a parallel world to the human world and imagine what it would be like to have them sit for a portrait. I try to picture a whole series of one species and how I would light it and work with them. I look at their expressions, I look at their feather patterns and I watch how they communicate with other birds and people. I also visit wildlife carers to meet birds that I wouldn't normally see in my area, through the carers I learn more about their personalities and it's really just from all these observations that a new series starts to emerge.
I love all animals but the reason why I focus on birds is because they are one of the few wild animals that have been able to adapt to city living so they're in my world. Because of this I have formed a strong connection with them.  If I had Bilbys living in my backyard I'm sure I would be just as obsessed with them.  I'd love to one day photograph other types of animals but for now I feel like there's so many amazing birds that I want to show to the world.
What does a typical day at work involve for you?
That's a hard one to answer because it changes so much as a project develops. At the moment I'm in the early stages of a new project so on an exciting day it's driving out to different wildlife care centres to talk to people and get to learn about what they do and meet the wonderful animals in their care. On a normal day it's a lot of administrative work or just sorting out the logistics of printing, framing and delivering artworks. It's important to be honest about the process: it's a lot of hard logistical work and planning and overcoming hurdles, a lot of administrative work and then there are those wonderful moments of sheer joy when I get to spend time with animals.
I can't start the day without.. A quiet morning cuddle and tickle on the couch with my 3 year old son Vincent. 
I'm currently obsessing over.. Anna-Wili Highfield's paper sculptures.
Favourite Design Piece.. I'd have to say Hans Wegner's CH25 oak chair. It's so comfortable but also so beautiful.
Explain your art in 5 words.. Wildlife, Portraits, Compassion, Conservation & Humour.
Where do you find inspiration for your work? The natural world.
Dream medium.. Medium format photography.
All time favourite artist or piece of art would be.. Juan Miro
My Biggest purchase to date was.. My lighting equipment.
My Next big splurge is.. Tickets to see David Attenborough speak at the State Theatre here in Sydney.
Im dying to go to.. The Galapagos Islands.
Best kept Sydney Secret.. Wylies Baths in Coogee. A beautiful ocean tidal pool that was one of the first public pools in Sydney. It still has the spirit of an old worldly recreational seaside pool combined with uninterupted views of the ocean that takes your breath away.
What's on the drawing board?
I recently had an amazing meeting with the people that run the biggest wildlife care centre in Australia which just so happens to be out of a maximum (and medium) security prison called the John Moloney Correctional facility. Part of the rehabilitation program for the prisoners is to care for injured wildlife; it's an inspiring program and it's huge. I'd like to find a way to put a spot light on these sorts of programmes and also showcase all the hard work that goes on behind the scenes in caring for wildlife.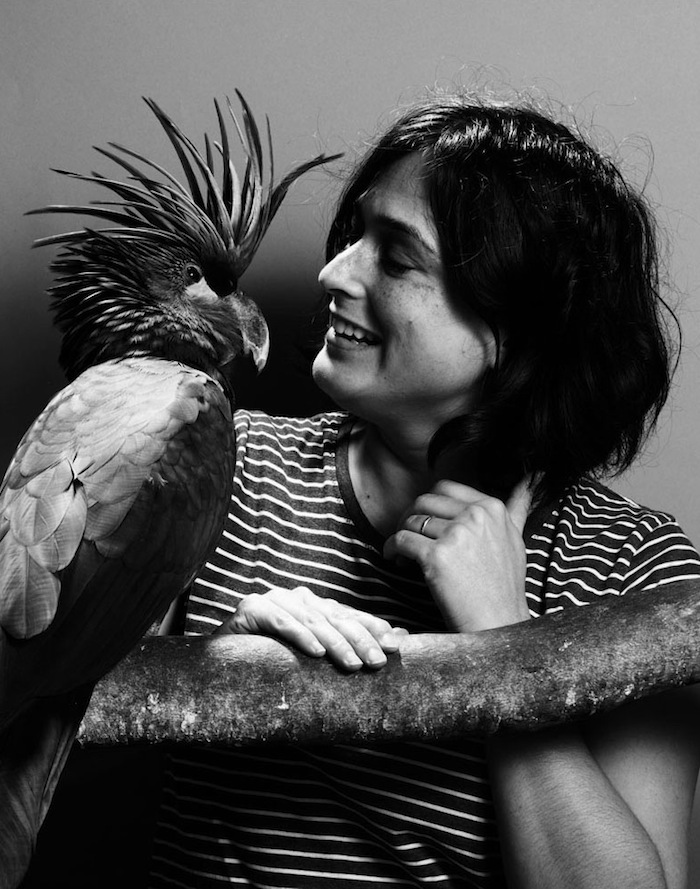 Photograph of Seisa and Leila.
Images via Leila Jeffreys & Alana Lansberry for Belle Magazine/Bauer Media.