BARCELONA GUIDE
In Est's latest issue, my personal guide on where to stay, eat and drink in beautiful Barcelona is featured.
Its no secret that I adore the Spanish aesthetic, in many ways it has the same liveable vibe that us as Australians aspire to, and they are not afraid of colour! Now as the seventh most popular European destination, it is no wonder why this city is is full endless inspiration. See more of my favourite places here and below!
Enjoy!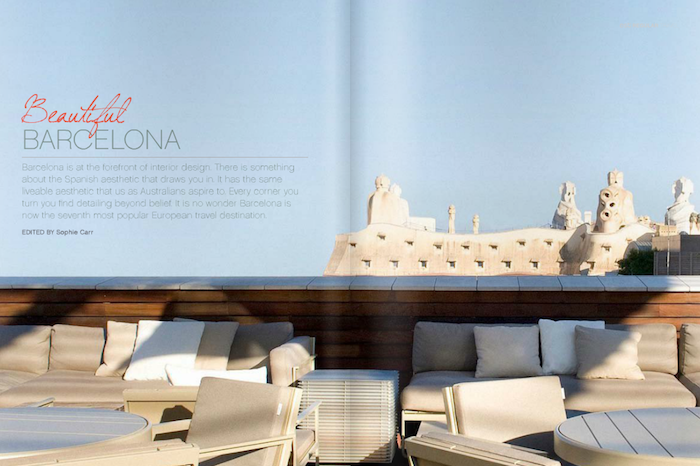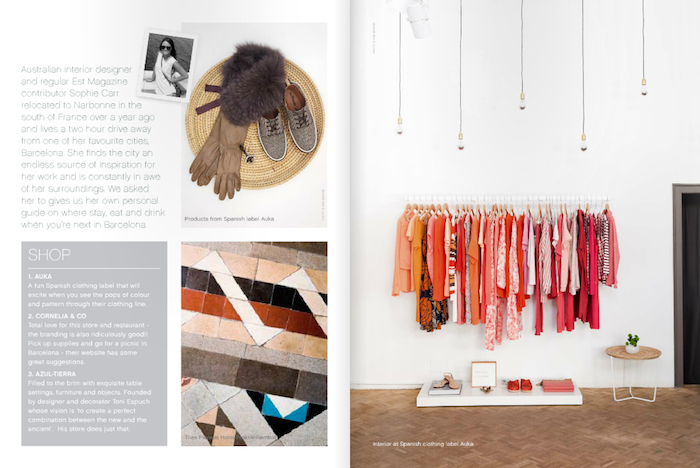 SHOP 1. Auka A fun Spanish clothing label that will excite when you see the pops of colour and pattern represented through their clothing line. 2. Cornelia & Co The daily picnic store! Total love for this store and restaurant - the Logo and branding is also ridiculously good!! Pick up supplies and go for a picnic in Barcelona, their website has some great suggestions of where. 3. Azul-Tierra Filled to the brim with exquisite table settings, furniture and shelving stacked full of objects for your home. Founded by Toni Espuch a designer and decorator his vision and aesthetic is "to create a perfect combination between the new and the ancient" and this store does just that.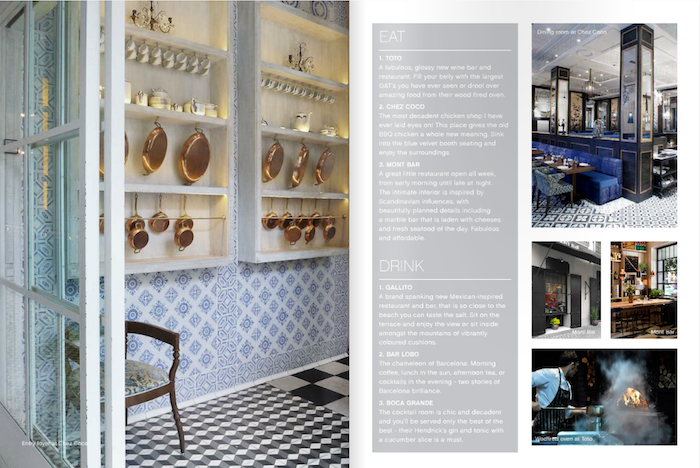 EAT 1. ToTo A fabulously new glossy wine bar and restaurant. Fill your bellies with the largest G&T's you have ever seen or drool over amazing food from their wood fired oven. 2. Chez CoCo The most decadent chicken shop I have ever laid eyes on! Sink into the blue velvet booth seating and enjoy the surroundings. This place gives the old BBQ chicken a whole new meaning. 3. Mont Bar A great little restaurant open all week, from early morning until late at night. An intimate interior draws inspiration from Scandinavian influences, with beautifully planned details including a marble bar which is laden with cheeses and fresh seafood of the day. Fabulous fresh affordable food!
DRINK 1. Gallito A brand spanking new mexican inspired restaurant and bar, so close to the beach you can taste the salt. Sit on the terrace and enjoy the view of the sea or sit inside amongst the mountains of vibrant coloured cushions. 2. Bar Lobo The chameleon of Barcelona. Morning coffee, lunch spot in the sun, afternoon tea, or cocktail spot in the evening - two stories of Barcelona Brilliance! 3. Boca Grande The cocktail room is chic and decadent, you will be served only the best of the best - their Hendrick's gin and tonic with cucumber slice is a must!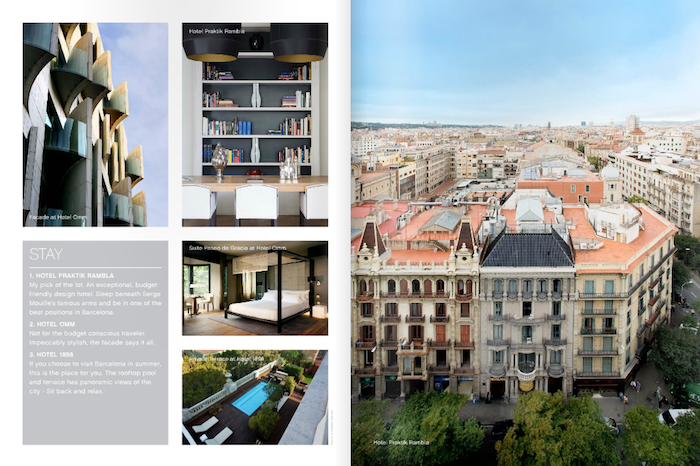 STAY 1. Hotel Praktik Rambla My pick of the lot - An exceptional, budget friendly design hotel. Sleep beneath Serge Mouille's famous arms and be in arguably one of the best positions in Barcelona. 2. Hotel Omm Not for the budget conscious traveller - impeccably stylish, the facade says it all. 3. Hotel 1898 If you choose to visit Barcelona in Summer this is the place for you, complete with a pool and terrace with panoramic views of the city - Sit back and relax!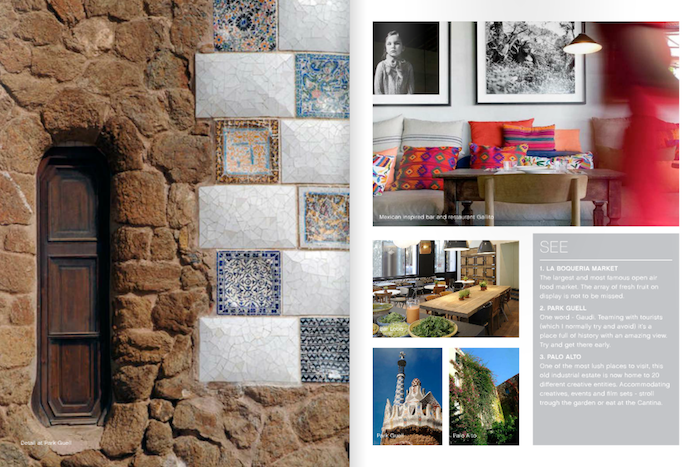 SEE 1. La Boqueria Market The largest and most famous open air food market, the array of fresh fruit on display is something not to miss. 2. Park Guell One word - Gaudi. Teaming with tourists (which I normally try and avoid) it is a place full of history and an amazing view, try and get there early! 3. Palo Alto One of the most lush places to visit, this old industrial estate is now home to 20 different creative entities. Accommodating creatives, events and film sets - stroll trough the garden or eat at the Cantina open to the public.